Activity: Create Aurora Borealis. Learn more about it
HERE
Fill a tub with water and soap to create clouds (bubbles) then break glow sticks (we bought 15 for a $1 at target) and throw them in. The bubbles help create that misty look you're going for. When the sticks glow the colors merge together creating the "northern lights"
Green - oxygen, up to 150 miles in altitude
Red - oxygen, above 150 miles in altitude
Blue - nitrogen, up to 60 miles in altitude
Purple/violet - nitrogen, above 60 miles in altitude
Here's a fun songs about space http://youtu.be/W4OgPHpUjh4
Write in moon dust.
Photo credit: Sorting Sprinkles
source
Paint the moon. Mix tempera paint with flour. First draw a circle on a sheet of black paper, and tell them to stay inside the lines.
Photo credit: Sorting Sprinkles Learn about it
HERE for the original Idea or
HERE
for a more in depth explanation.
Use words to describe the Sun
source
Focus on the stars. If real constellations are a little too advanced, try making these
If not try these activities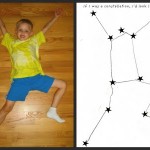 Connect the Stars: Great pre-writing activity You could even place the stars in the shapes of letters.
Make Galaxy Playdough
How far are the planets from the sun?
source
Phases of the moon: The source for this used cookies, but I think it would be neat to cut the shapes out before hand out of felt, and have the child arrange them smallest to largest.
source
Space snacks:
Rocket ship fruit kabobs
source
cut up star fruit
anything in the spherical shape could be an asteroid:
Cake balls
doughnut holes
Melon balls
Blueberries
Blue Mountain has an MRE of freeze dried ice cream just like the astronauts eat. They had it at our local grocery store, but you can buy them online too.
We drank tang out of a bag with a straw too. (Capri Suns would work too)
Other Activities we did:
Astronauts need to be in pronominal shape so I set up a very basic obstacle course and let the kids "train". Our number of the week was 7 so I made the mini trampoline 7 jumps and hit the punching bag 7 times.
I also put on outer space music and let the kids practice walking in moon boots. Which was basically just slow high knees and pretended their suits brought them back down the moon.
We made crayon rubbings of words spelled on paper with a glue gun. I wrote the words with a glue gun and cut them into cards. We placed the cards under a white sheet of paper and rubbed the side of a crayon on top to see which word it revealed. The words I used were: Sun, sphere, solar, sonic, Saturn, star, shine, satellite, ship, surface, and space.
We used white circle stickers and put them on black paper in the shape of a 7 then connected the dots with a white paint pen to make a constellation "7".
We painted our own planets by squirting a few different colors of paint onto a paper plate. I blew up a baloon and we dipped the balloon into the paint and then onto black paper. Each child then named their planet. Each child picked a color they wanted represented but it would be great with blue and green for earth too. I took the idea from Here:
Lastly we foiled up various sizes of foil and pretended they were meteors. First we aligned them by size then practiced shooting the meteors into a bucket for a meteor shower.
Books: