Every now and then I think it's okay when the week is more about fun than learning. I think Halloween can be one of those topics. I mean really-the only thing kids really focus on for 12 years is Candy, Candy, Gotta get the Candy! (Seinfeld) So make it fun and exciting. Here are some ideas for Halloween week:
Music:
Sugar cookie Kit:
Pumpkin Shakers
Mystery Box: if you didn't do this activity for senses, this is a great time to do it
* Eyeballs: peeled grapes or olives * Tongue: banana peel or canned green chili (whole) * Intestines: spaghetti (with a splash of vegetable oil to keep them flexible) * Teeth: candy corn, corn nuts or broken pieces of chalk * Fingers: cocktail wieners (cut off one end) * Bones: chicken bones, cleaned and dried * Hair: bean sprouts or wet yarn * Heart: peach half (canned) * Ear: dried apricot * Skin: square cut from a flour tortilla
Spider Web Balance: Find directions on how to play
HERE
Halloween Printables
source
Seriously there are a TON (all for Halloween) on this page. Def worth checking out .
Puzzles:
Balloon Spider Webs
Spider Webs with white chocolate, milk chocolate and pretzels
Candy Corn Cupcakes
Clementine Pumpkins
Witch Hat Craft
Paper plates and paper rolled into a cone shape.
5 Little Pumpkins Craft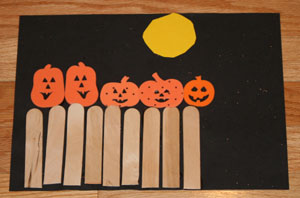 Five little pumpkins sitting on a gate;
The first one said, "Oh my it's getting late."
The second one said, "There are witches in the air."
The third one said, "But I don't care."
The fourth one said, "I'm ready for some fun!"
The fifth one said, "Let's run and run and run."
"Wooooooo" went the wind,
And out went the lights.
And the five little pumpkins rolled out of sight!