I wanted to give you all a head start for the books we will be reading this upcoming week. I've chosen to do insects for week one. Why you might ask? In our area the fireflies will be out in our area. As a child I loved when I could be outside just after dusk and chase fireflies to my heart's content. Although to be fair we called them lightening bugs. Same dif. I want to share this with my daughter, thus the theme for the week. Our local library had TONS of books on the subject, and the lovely librarian also gave me a tutorial on how to do a search for a "subject matter", put them in a feature called the "book bag" and check them all out at once on line. Then all I have to do is pick them up from the desk. You should have seen my method before... something along the lines of down on all fours crawling between the isles and chasing 2 kiddos. Not. ideal. Now I can just sit with them and watch them read, or help them with the computers, or story boards. No more crazy lady in isle 2.
Alright here's the list:
Craft/ Activity: Firefly Jars
Looks easy enough. Tissue paper, glue, jars and candles. Battery powered tea lights would be perfect if you're doing this for your own child. I've seen them at the dollar store, and at places like Odd Lots.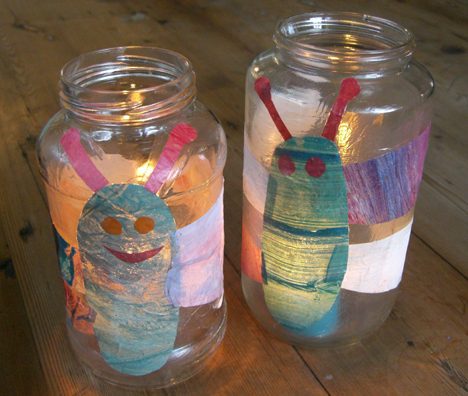 source
or egg carton Ants source
Math/Science:
Source
For my version go
HERE
I have a free printable in color or black and white. We laminated ours so we can reuse them. I love the idea of counting spots. you could also play with words like symmetry and identical
The author at Unsolicited Advice has soo many free printables! Here is one with math counting insects
BUSY BAG Number Tiles and Bug Counting Cards
Food Activity: Fruit Centipede
Source
Field Trip: Take the girls to the park at dusk, lay on a blanket and watch the fireflies
Treat for the trip:
Butterfly Bags
Source
I tried getting books about completely different insects. If I had known about the feature sorting button before I may have reserved multiple books for the same insect. Here was my criteria when looking: beautiful pictures, appropriate amount of words per page, and insect related. I was also pretty amazed at the amount of craft projects/lessons/learning activities that pulled up with each book I searched in Google. If you'd like some ideas, just throw in a title of a book you plan to read. And of course there's always Pinterest.